Hello. As the new series of Doctor Who begins, more and more gifts are available to buy for yourself, friends, family and even people you don't know (OK maybe not the last one, but still). These items range from: books, busts, action figures and even instructions to build your own TARDIS... let's take a look at some of the gifts which can be bought in the present and future.
CHARACTER BUSTS - £49.99
Information:
These beautifully-sculpted 8" maxi-busts perfectly recreate the characters, monsters and villains that they represent. The varieties include: the 11th, 10th, 4th and 3rd Doctor, Amy Pond, a Weeping Angel, a Cyberman, a Dalek and others.
Opinion:
I will be buying myself one of these for my room, the detail is incredible and they look great.
Available on:
1st June 2011
Website:
http://forbiddenplanet.com/66147-doctor-who-masterpiece-collection-maxi-bust-11th-doctor/
ACTION FIGURES - VARIOUS PRICES

Information:
Recreate scenes from the Eleventh Hour with this twin pack that features two incredibly detailed and authentic Eleventh Doctor five inch action figures. The two figures have different costumes: one wears the ragged, old costume that belonged to the 10th incarnation before he regenerated and the other wears the new costume belonging to the 11th incarnation of the Doctor including the tweed jacket, the bowtie and the braces. Other action figures include: Amy Pond, the Weeping Angels and the Daleks.
Opinion:
These figures look very good - I remember owning the old figurines from the older series and I loved playing with them.
Available on:
Already available
Website:
Information:
Join The Doctor throughout all incarnations of his existence, with the Doctor Who 11 Doctors Collection. For the first time, all eleven versions of the Doctor have come together as a set of action figures, in a TARDIS display box . The figures of the first to seventh Doctors appear in brand new outfits exclusive to this boxed set . Each Doctor comes with an accessory , either his sonic screwdriver, or a personal possession. The First and Second Doctors (William Hartnell, 1963-1966, and Patrick Troughton, 1966-1969) come dressed in the outfits they wore when they appeared in "The Three Doctors", helping the Third Doctor (Jon Pertwee, 1970-1974) fighting off the ancient, crazed Time Lord known as Omega. The Fourth Doctor (Tom Baker 1974-1981) appears wearing his legendary multicoloured scarf. The Fifth Doctor (Peter Davison, 1981-1984), remembered for wearing an Edwardian cricket outfit, now features his famous stick of celery! The Sixth Doctor (Colin Baker, 1984-1986) comes wearing one of his bizarrely garish outfits. The Seventh Doctor (Sylvester McCoy, 1987-1989) was much better dressed, as seen with this exclusive figure. The Eighth Doctor (Paul McGann, 1996) only made one television appearance, and this is the first time he has appeared as an action figure. The Ninth Doctor (Christopher Ecclestone, 2005) was only around for a short while, before causing a regeneration to save Rose Tyler's life. The Tenth Doctor (David Tennant, 2005-2010) then thwarts several attempts to destroy the universe, before finally defeating his long-time nemesis, The Master. The Eleventh version of the Doctor , played by Matt Smith, appears in his tweed jacket and bow-tie, having just saved the universe from the cracks in time.
Opinion:
This is a great idea and I like the aspect of it. All eleven Doctors together in a boxset is very fun to play with!
Available on:
Already available
Website:
BOOKS - VARIOUS PRICES
There are lots of new Doctor Who books coming out or that have already come out. As there are many, I will only post a few whose synopses sound the best.
APOLLO 23
Price:
£4.19
Synopsis:
An astronaut in full spacesuit appears out of thin air in a busy shopping centre. Maybe it's a

publicity stunt

.
A photo shows an immaculately-dressed woman in her best shoes lying dead at the edge of a crater - on the dark side of the moon

- beside her beloved dog 'Poochie'. Maybe it's a hoax.
But as the Doctor and Amy find out, these are just minor events in a sinister plan to take over every human being on earth. The plot centres on a secret military base on the moon – that's where Amy and the TARDIS are.
The Doctor is back on Earth, and without the TARDIS there's no way he can get to the moon to save Amy and defeat the aliens.
Or is there? The Doctor discovers one last great secret that could save humanity: Apollo 23.
Opinion:
Personally, I love this book. I have read it and it is fantastic. The description is amazing, the plot line is full of suspense and the characters are extremely believable.
Author:
Justin Richards
TOUCHED BY AN ANGEL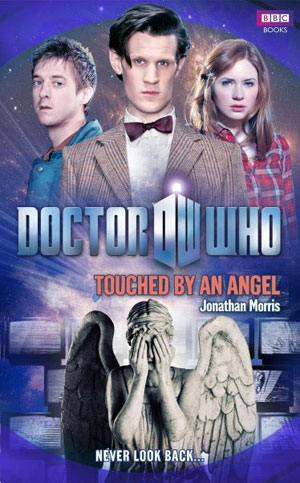 Price:
£4.68 
Synopsis:
In 2003, Rebecca Whitaker died in a road accident. Her husband Mark is still grieving. He receives a battered envelope, posted eight years ago, containing a set of instructions with a simple message: "You can save her."
As Mark is given the chance to save Rebecca, it's up to the Doctor, Amy and Rory to save the whole world. Because this time the Weeping Angels are using history itself as a weapon.
Opinion:
The plot line sounds unique and I will definitely purchase it. A Weeping Angel is an excellent creation but they can be used well or awfully. I am looking forward to how the author displays the Lonely Assassins.
Author:
Jonathan Morris
Website:
http://www.amazon.co.uk/Doctor-Who-Touched-Jonathan-Morris/dp/1849902348/ref=sr_1_4?ie=UTF8&qid=1306600714&sr=8-4
THE WAY THROUGH THE WOODS


Price:
£4.39
Synopsis:
Two teenage girls disappear into an ancient wood, a foreboding and malevolent presence both now and in the past. The modern motorway bends to avoid it, as did the old Roman road.
In 1917 the Doctor and Amy are desperate to find out what's happened to Rory, who's vanished too.

But something is waiting for them in the woods. Something that's been there for thousands of years. Something that is now waking up.
Opinion:
I've bought this book and I am excited about what the book will hold. I am anticipating this book as the plot does sound great, so I hope it lives up to my expectations.
Author:
Una McCormack
Website:
http://www.amazon.co.uk/Doctor-Who-Way-Through-Woods/dp/1849902372/ref=sr_1_1?s=books&ie=UTF8&qid=1306601366&sr=1-1
This is all for now, monthly updates will be added.