Hello. Three new Doctor Who books are coming out soon, one of which you have heard of in the
Doctor Who Items to Buy May Edition
. The reviews have been taken from Doctor Who Magazine and you can read them below:
PARADOX LOST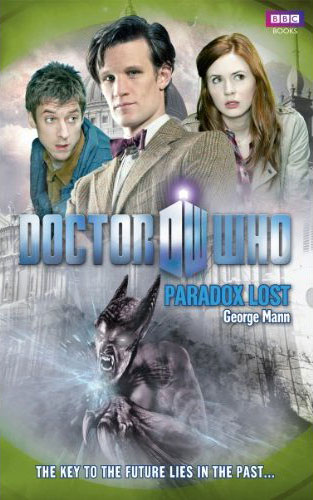 Price: £6.99
Release Date: 23rd June
Written by: George Mann
Featuring: The Eleventh Doctor, Amy Pond and Rory Pond
This may be George Mann's first Doctor Who novel, but he's by no means a newcomer to the Doctor's world. He's written audio adventures for Big Finish, and boasts "a complete set of DVDs and shelves bulging with novels and audios." He and the book range's series consultant, Justin Richards, had been circling each other for a while, Mann reveals. "I'd been keen to pitch a Doctor Who novel, and he was aware of my work and wasn't sure how to reach me. It was a mutual friend who finally put us together when she bumped into Justin at a party. One thing led to another and soon enough I was talking to Justin about ideas for a Doctor Who book. "I really wanted to write a story that felt like it was part of the show; that felt like it was an adventure that could have happened on screen, with the same sort of tone, style and humour."
Doctor Who, says Mann, is freeing. "A large part of that is to do with time travel and the way in which it allows you to play with the structure of your narrative. Steven Moffat's Doctor Who makes great use of time travel as part of the structure of the show. It underpins everything, all the major story arcs of the series. Not only is the TARDIS a great tool for the storyteller to get the characters to any time or place in the universe, it also allows you to tell your stories backwards, sideways, or from different perspectives than you can with a traditional, linear novel. I wanted a story that made use of the extra dimension, while still delivering in the monster stakes, too!"
In Paradox Lost, Mann plays with the consequences of the Doctor's travelling through time. "I like the notion that the Doctor and his companions don't always just land in the thick of things and roll up their sleeves - sometimes that approach has consequences and they end up having to put it right...
What's it about?
London 2789: the remains of an ancient android are dredged from the River Thames. When reactivated it has a warning that can only be delivered to a man named 'the Doctor'. The Doctor and his friends must solve a mystery that has spanned over a thousand years...
With credit to DAN TOSTEVIN for the review!